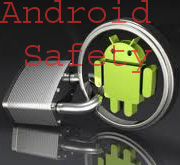 Recently a new threat "BadNews" was detected in android devices and it was download from the Google play store for 9 million times,it sends SMS from user mobile to earn money for its developers.it was found in 32 application ,but now it has been removed by Google Play Store .
But these types of malware are becoming a headache for Android users so to get rid of these type of malware follow some steps -:
1. Install any of anti-malware application
You use an anti-virus program in your computer system ,so you should also install  malware application in your Android device too,By installing an anti-malware application, you can  make your android device safe from these malware,
There are plenty of anti-malware apps.Some are free and for some of these apps you have to pay.
AVG And AVAST will be best for this purpose.
2. Avoid "Password Remember"
Whenever you browse any site then it ask for remembering your password,and many of us made a
choice to remember the password.and it is save in the Cache memory.When our phone gets infected
with malwares then its check for the device cache memory,and from there it get access
to all of our password and to our personal information.
This is very dangerous ,,so next time avoid to remember password and clear your cache memory.
3. Rooting your Phone
When we get our Android device then after some time we get boring from its user interface and its widget
and from many more things than we think of Rooting our phone.But we don't know by rooting our phone,
we are allowing third-party application to gain root access,which can be a dangerous thing because these third-party apps with privilege of root access can do many things on our device without our information.
So Install an application which can restrict these 3rd party apps to gain root access and by these apps you can also check which apps are working with root access.Some of apps which can stop such things are SUPERUSER or SuperSU.
4. Install Application from Trusted Source
If you are the one who always tries to find something new and for doing this you install application from untrusted.
sources then make sure that your device is not infected with these malware.
Always try to install application from trusted application store and Google Play Store is One of them.
Almost all of the application in the Google Play Store are free from these type of malware.
5. Read Online reviews of the application
Before installing any application onto your Android device,check about it.
Read the user reviews about this application.this method is also useful to get rid from these types of malware
You Should Also See How To Save Your Smartphone Battery Life
About The Author