How to Save Battery Life Of Your Smartphone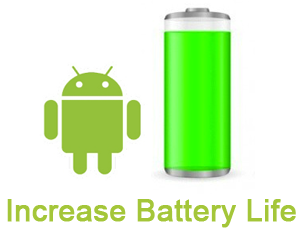 Save Battery Life Of  Your Smartphone
1. Your Smartphone Screen
Your smartphone screen mattes a lot to save your battery life.Try to maintain your screen brightness on a lower level and on a level that is visible too.by doing this ,you can save a much of your smartphone battery life.
2. Hardware.
Hardware on your phone such as WI-FI and Bluetooth,Try to keep off if not using because they use a lot of your battery life and also try to keep your data network to off because it is also used by many of apps that runs in background,by doing this too,you can save your battery life too.
3. Use Headset.
While listening Music or answering your calls ,Use headset instead of using your Smartphone Speakers..
4.  Battery Saving Apps
If you use a smartphone lot and want to increase its battery life then use any of battery-saver apps.There are many of battery-saver application which you can find on Google Play Store.Some of good battery-saver apps are Battery Doctor And Juice Defender.
5.  Scan Your Smartphone
Try to scan your phone once in a week for optimizing it.Use some good application to scan your smartphone like Clean Master Or Mobile Care.These apps will scan your smartphone for viruses ,junk files and also for cache and cookie files. this will also increase your smartphone battery life.
6. Temporary Files
Try to remove temporary files from your smartphones by restarting it once in a week.
7. Ideal Charging
Charge your smartphone battery from 15% to 99% mostly and From 5% to 100% once in a month. it will also increase the battery life.and also keep in mind that you should avoid Overcharging your smartphone.
You Should Also See Increase RAM of Your Android Smartphone
About The Author