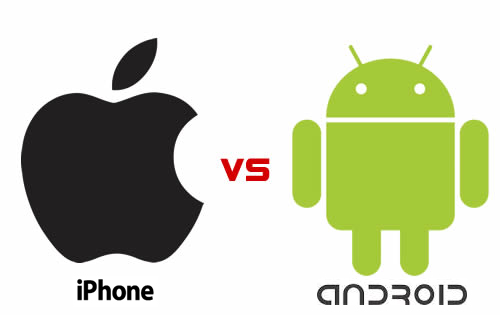 Android or iPhone                                                                 
If you are confused to choose  an Android phone over an iPhone then just get through this article .It will help you to choose between iPhone or Android.
So Some of the features of Android phone over iPhone are -:
Control your Phone with your Computer
Yes it is true that you can control your android phone from
your computer.you can send sms from Chrome and also can control
its other features with the help of your computer browser.
iPhone also allow to do this but only then if its jailbroken.
so if you want this feature in an iPhone then jailbreak it first.
Custom ROM
When you have a iPhone then you know ,it can not be customized according to you.
But this is not with the Android OS.
As Android is an open source OS,so you can download it for free
and can tweak it according to your need and can add some cool features
to it and then install it in your Phone.
and if you are not good in developing then there is plenty of custom ROM out there like CyanogenMod and MIUI.
just search for them and install
Application installation
Everyone of us always looks for the apps that can entertain you or make your smart phone experience great.
so for this you download apps to your phone and use them.
In Android phone you can download million of apps from play store or also you can download these apps
from third-party sites,there are many third-party sites there.
but for downloading apps on your iPhone you have to go to App store or to Cydia Store.
so it's also not good as Android
Memory
Smartphone becomes the part of our life and yes it's also true that we can't live without them.
and we also to use them to capture our unforgettable moment,keep our favourite music and videos in them.
And then one day we get a notification about the less memory in our smart phone.
then what we do ??
yes if you are using an Android Phone then just expand its memory with a Memory card,but if you are using
a iPhone then you have to delete some of your data.and nobody wants to do that.
Home Launching Screen
When you use a iPhone then you know you have to see the same home screen again and again,and if you have jailbroken it then you can customize your iPhone home screen a little.
But in Android case you can set your home screen as you want with the help of some third-party application.
With the help of these apps you can customize your Android home screen with some extra features,
shortcuts and you can add widget too and also the setting shortcut that you used too much.
so there is a difference between two OS,I wish you will like it ……
You Should Also See 7 Features of New iOS7