Today life is going at a fast speed and daily new technologies are being introduced in market. The uses of internet and web pages have come after 1990's but have gained wide scope and importance. The rapid improvements in applications of internet media have made the world small with effective communication, sharing of knowledge and gaining business. We are so habitual of using internet for browsing, learning, using social media, booking tickets or shopping that we cannot think life without it. With the use of SmartPhones, iPads, laptops, desktops etc the reach of internet is very easy.
How to create an online image?
The foremost thing o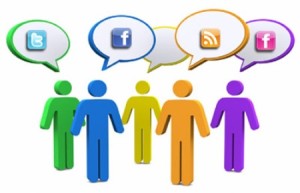 ne requires is a Website of Company. A web design is a layout of what actually the company is, the products or services it provides, the work handled and its objectives. After the creation of website online promotion is required to reach targeted clients. The promotion can be done by linking with Social Media (facebook, twitter, YouTube, pInterest, etc) and with SEO services (ranking website on search engines).
                Reasons for Web presence of an organization:
24/7 visibility of Business: A website can be accessed globally and at any time.
Cheapest form of Marketing: A website is a onetime investment an doesn't cost much for its creation
Attain new markets with a global presence: Online presence broadens the base of clients, buyers, suppliers and distributors.
Creates a professional & credible image: Today customers are headed towards brand image and likes to communicate online.
Selling products & services online: Online market has become a huge platform for buying and selling various products relating to categories like clothing, home wares, accessories, electronics, tickets, etc
Stability & Improved customer service: Through online contact you can reach your customers from anywhere
What type of company's can go for creating a website?
The web presence is important for all type of companies from small to large. A website is important for IT Company, Lawyers, financial consultants, travelling, property dealers, education, doctors, entertainers, freelancers, dealers, technical, hardware, etc. For maximizing sales and business, almost any type of organization can take a website and deal with clients easily over phone, web chat or video calling from anywhere.
Blogging Page or Website for personal use…
For building a website or blogging environment, a personal domain name is taken. With that domain name we can layout personal information like on families, friends, hobbies, community or club, share experience etc.
Making money from Website
One can earn revenue through ads and links placed on the website. This will generate traffic, merchant links and promote website while earning money through it.
Choosing a Web Design Company…
For an appealing and professionally sound website, an experienced Web Design Company who can understand the respective business and can shape it best into online media. To engage customers a website must have friendly navigation, clean design and attractive looks. Further, the website must hold fresh content, impressive images for high ranking on search engines.